Fantastic, we're so pleased you have an interest in our platform and methodology. More so, that you're interested in helping yourself, and others. For that we congratulate you.
We are constantly told that changing anything is difficult, and that may be the case. But with the right mindset, support, and action, anything is possible.
You can also download the Ideas-Shared Formula, a free Guide for everyone, as well as subscribe to our free course.
In the Member Area are more Guides, plus detailed documentation based on your membership type, too!
Are we in over-kill, is this too much information?
Well, that depends on whether you're interested, like detail, and want real advice to help you.
At the end of the day, platforms and methodologies that help you identify and achieve your ambitions, and goals warrant detailed explanation. Don't believe the nonsense that everything needs to be dumbed down to the smallest denominations. Give yourself enough time to really see what's going on here, then make an informed decision.
Ideas-Shared is a 5-in-1 idea-sharing platform designed to help members manage adversity and opportunity. It's called 5-in-1 because it offers a solution to:
Individuals
Communities
Businesses
Non-Profits
Government and Public Bodies
Here members come together as individuals and groups, to post their wants and needs, ask for help, get help, then plan and execute tasks that deliver specific outcomes.
Anyone over the age of 16 can join our community as an Individual Champion, be part of a Champion Group, or as a Free member. As the name implies, Individual Champions, and Free Members represent themselves.
Champion Groups can either be official, or unofficial, representing communities, organisations, businesses, charities, schools, clubs, etc.
Each Champion Group comes complete with a defined number of sub-accounts. Collectively everyone is a member of Ideas-Shared.
Ideas-Shared operates across every facet of life, including personal, business, community, and government interest areas. We think too many people are marginalised, too few have a real voice, too many people are struggling, and too many people do not have the leverage, skills, or experience needed to change and improve our world. This has to stop. We need a way to open up the world to innovation, change, and improvement like never before using the potential of the internet. That's why we're creating a new age of enlightenment where our voices can be heard, and acted upon, not simply ignored.
As such, we originally created Ideas-Shared to help people find the help they needed to develop their own ideas. We then expanded that to include seventeen other everyday activities, see our Use Cases for more information on these.
Also, our world is inefficient, unequal, unfair, bureaucratic, dangerous (think of what's happened in Ukraine), full of ideology, political divide, greed, incompetence, and more… all of which cause harm to people everywhere.
We think it's time for people to have their say, and to initiate activity that makes our world a better place.
With Ideas-Shared, we can start to find ways to collaborate right across the spectrum of personal, community, business, environmental, and government activity, to overcome adversity and take advantage of opportunity.
We recommend everyone has an Individual Champion Account.
Thereafter, communities, organisations, and businesses can set up any number of Champion Group Accounts with varying numbers of sub-account users in each.
Champion Group Accounts are initiated by leaders, officers, or directors of organisations and businesses with the agreement of sub-account members.
On Ideas-Shared, Champions create Activity Listings to drive the changes and improvements they want to see, personally, or within their group, organisation, business, etc.
Champions are motivated individuals that are trusted, passionate, and skilled, able to identify goals, and ambitions, and bring teams of internal and external parties together to plan and execute tasks that deliver desired outcomes.
We think that the title of 'Champion' is a fitting description of who you are, and what you do.
Ideas-Shared works by helping members identify their strategic goals and ambitions, then linking these to any number of everyday Activity Listings, that once achieved deliver the outcomes wanted.
Along the way, Ideas-Shared helps members find the help, support, and leverage needed, plus facilitating the planning and execution of tasks that once complete deliver the desired results.
Members use the Ideas-Shared platform and follow a methodology that is comprehensive, logical, and easy to follow. This is what we call the Ideas-Shared Formula.
You can get the Ideas-Shared Formula yourself for free by clicking here now.
On Ideas-Shared members translate strategic goals into everyday Activities, such as developing ideas, overcoming frustrations, fixing problems, and more.
This table shows all of the Activity Types available on Ideas-Shared along with their respective desired outcomes.
As an example, your strategic goal may be to make money. To do this you may need help to build something, and then market it accordingly. You need help to do both, therefore you set about posting an Idea Listing to build it, and then a Solution Listing to promote it.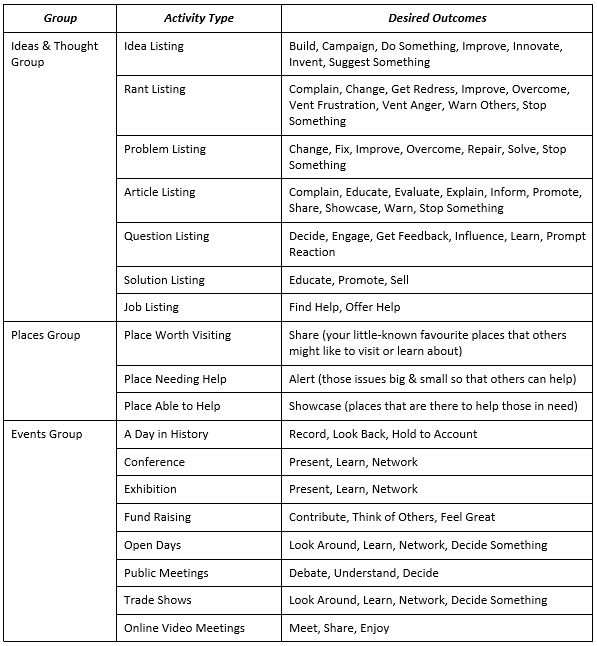 Ideas-Shared offers unlimited, structured options for value and benefit generation. Just create the combination of Activity Listings you need to achieve your goals.
Champions are not limited to the number of Activity Listings that they can post or engage on. Time and availability are the critical factors here.
Free Members have no ability to post Activity Listings, however, they are free to engage in as many activities as they wish, in a supportive, delivery-focused way.
The Internet has changed substantially over the decades. Today, the best places to advertise are on the main social media websites such as Facebook, LinkedIn, and Instagram. Maybe you have other favourites too?
Eventually, Ideas-Shared will garner its own significant membership, which means the requirement to advertise elsewhere will be less, but for now, just stick to social media.
Of course, a lot depends on what you're trying to achieve, and who you want to help you. Do you need a very targetted audience with specific skills, or are you more interested in gaining mass interest, or perhaps some kind of direct action?
A lot depends on what you're trying to achieve, and who you want to help you. Do you need a very targetted audience with specific skills, or are you more interested in gaining mass interest, or perhaps some kind of direct action?
Good old-fashioned advertising offline is still a great way to get the word out. Think about the type of listing you've created, then imagine where the people who might be interested in helping you hang out.
At the very least print a Poster, or create one of your own, add the URL to your Listing, and put it up in the local supermarket, local amenity center, or workplace. You could also create an advert in the local or national newspaper.
Finally, don't forget about talking to people directly, or pick up the phone, send a text.
If no one is contacting you about your listing, consider there could be a number of reasons:
Your profile is incomplete, there is no picture of you or completed bio, and people are not sure about who you are, or what you stand for.
Your listing is only partially documented and may require more information to make it understandable. This may include not having a call to action i.e. no next steps shown.
The subject matter or end goal serves a smaller audience, and these people may not have seen it yet.
The listing is simply not appealing enough for others to engage.
People are glossing over your listing because they cannot see it. They cannot see it because their brain is not conditioned to view it, rather it's too busy trying to survive and filtering out the content. Change the headline to grab attention. Then create emotional copy in the body of the listing before adding a logical conclusion that satisfies the brain it's making the right decision.
If you're happy with the details provided, simply let the Listing stand as it is, and let the fullness of time give you more insights.
Ever wondered why people are not on the same page as you?
We live in a complex world where there's so much going on… there's personal relationships, stuff happening at work, stuff on the TV, and in the press… there's politics, and environmental stuff happening, countries are being invaded, others are threatening to do the same… and so it go on, and on, and on…
Who do you believe… what should you do… and how do you react to all this stuff?
Of course, all of us react to adversity and opportunity in different ways, and when we do, there's a good chance that our unconscious, deep-rooted survival instincts want to take over!
These survival instincts manifest themselves into different behaviours such as being demanding, antagonistic, angry, hateful, scornful, stubborn, resistful, anxious, confused, over-thinking, worried, indecisive, trying to impress, and feelings of not being good enough, and blaming others.
They don't help…
But these behaviours are how we react most of the time, even though they are not conducive to progress, they're unhelpful at best, and downright disruptive, too.
So to get help, we need to find ways to change the way others think, one that helps other people overcome their thought patterns, to focus more on helping us!
That's why on Ideas-Shared, woven into the Ideas-Shared Formula, is a way where individuals and groups can transcend current thinking, and instead use intuition, and curiosity to change negative or disruptive behaviour patterns.
Once we stop our negative and disruptive behaviour, once we are free to focus on anything we want without limit or hindrance, when we can bring our skills and experience to bear, and when we use our intuition, and curiosity more, then it's possible to identify how best to use out time to help ourselves, and the groups we want to represent.
Together we have an amazing opportunity to change and improve our world…
Really? When you look at the news, across politics, the environment, work, and elsewhere there are many things worth commenting on as problems, and frustrations. The actual question to ask here is whether or not you want to commit to saying something about something, or simply keeping quiet.
Humanity blames, we gossip, we do all sorts of negative things, and we watch as things unfold around us. Of course, most of this 'stuff' isn't our fault, so who cares anyway!
Perhaps you may not have a specific idea, problem, frustration, or other such need today, but chances are you'll have one tomorrow.
If you really don't have any ideas or thoughts, check out the current listings, and then 'Like' or 'Dislike' the ones that you're drawn to.
None of us need to make a drama out of changing and improving our world, and we should all want to speak up about adversity, and opportunity, so take another look, there are things you want to say, and do, but you're probably just hesitant in doing so.
Ideas-Shared is different, we open a door to different ways of thinking and acting, and if you're anything like us, you'll want to walk through that door.
If you really don't know anyone to help you, then start by syndicating your Listing across social media, advertise offline, and make sure your profile is fully complete. Network with others, and see if other people know anyone too.
Clearly, there must be a market for your Activity Listing to generate interest otherwise it will go nowhere.
As an aside, Ideas-Shared is new, and we are looking to grow exponentially into a global platform for billions of people to come together to overcome adversity and take advantage of opportunities. Doing so opens up the possibility of bringing the people you know and those you don't into one space, thus limiting the need to go off-platform.
Firstly, ask for what you need, don't be shy!
When you find people, make a decision as to whether or not they can be trusted. Do you know them, or are they complete strangers?
Who you're willing to accept into your team will depend on your appetite for risk. When you find people, check out their profiles, organise an open and frank chat with the people who want to help, get an idea as to what people can deliver, and always gain their commitment to delivering within an acceptable timescale.
Create a Group and invite people to it, 3 to 5 people should be enough. Too many, and you could end up going round in circles. Build sub-teams if necessary.
If you need professional help, then make sure you stipulate this in your Listing.
In terms of tasks, start by listening to anyone with some degree of experience, and decide whether this is sufficient to proceed.
Give those with experience the lead, and take up a watching brief. Don't fuss or fret, measure the results obtained over time, and change direction as needed. Keep going.
If no one has specific experience, don't worry, research what others may have done in the past and create a framework of activity. Then jump in and start, change direction as needed, and keep going until you get to your end result.
If you need to, allow your team to morph by bringing more people in and letting others go as needed.
Always keep your temper in check, don't blame anyone for anything, keep civil, be friendly, and talk often.
Let your intuition guide you, and be curious about everything.
Current listings are found here. If you find anything of interest then sign up, and contact the List Owner… you never know where it might take you…
There's a cost to everything we do in the world. Some of that cost we need to pay for using money, sometimes we pay in other forms.
Ideas-Shared does not allow 3rd party advertising, as this could lend itself to having multiple masters. We took the decision to have a no-ad policy. This keeps the site uncluttered, and more importantly, keeps the focus on what's truly important.
Building and running a site like Ideas-Shared is very expensive, it would cost you many thousands to build and run.
Therefore without some kind of membership model, Ideas-Shared would not be able to operate, and you wouldn't be able to benefit from our solution.
We think you recognise the value we offer, and that paying a small amount each month or year will be amply rewarded through the value and benefit generated for yourself, your group, and other beneficiaries.
Our pricing is super-competitive and offers significant value for money.
Prices start from £7/Month for an Individual Champion Account and £15/Month for a Champion Group Account with 5 Users.
Get Started Today
Our FAQs give you the answers you need to be sure our solution is for you. Have more questions, then contact us for more information. When you're ready click the link below to start.