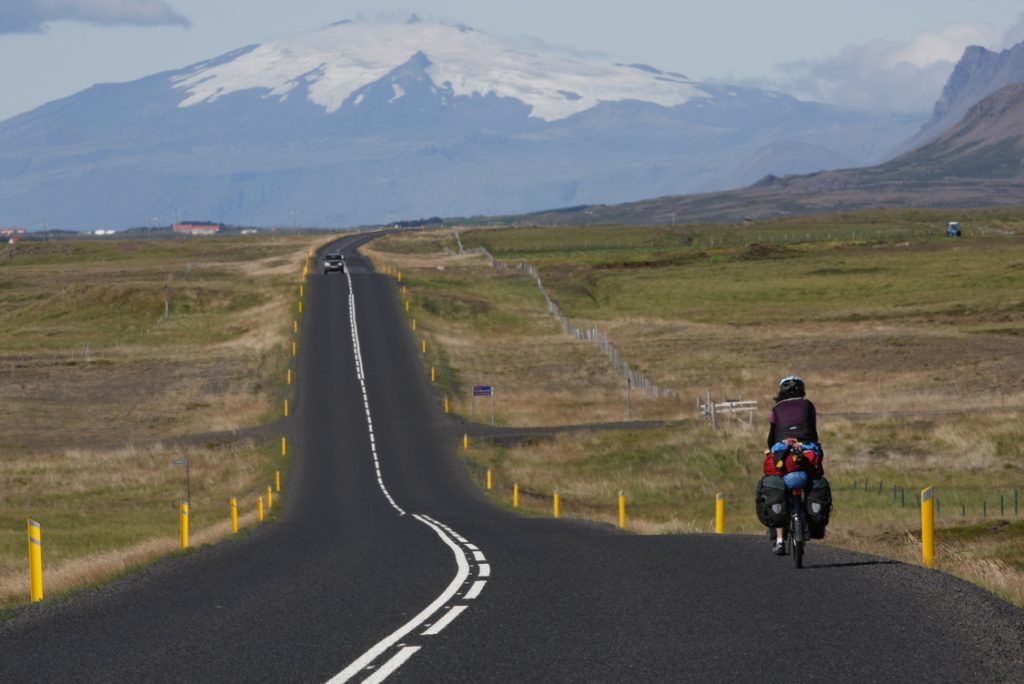 Bicycle road next to Road 1 in Iceland.
Iceland, bicycle, Road 1, Ring Road
Over two million tourists came to Iceland in 2019. Many of them drove Highway 1, which has been described as driving through an ever-changing postcard, the landscape changes at every turn and every hill.
 
The idea has popped up that it would be wise to build a cycling path parallel to Highway 1 and thus increase the number of opportunities to enjoy our beautiful country in a safe and good way. 
According to reports that have been made in Scotland, the profits from cycling are estimated to be around 20-40 billion annually.
In light of this, a good argument could be made that this would be an economically and socially good investment for Iceland, but this would of course need to be looked at more closely.
The Road 1 or the Ring road is 1300 km. 

Estimated cost for 1km of bicycle road is 30 million ISK or 210.000$, so we are talking about massive investment. But I am sure this could be lowered with project of this size.
This sort of project would created all sorts of new jobs and services all around Iceland.
So what do you think would this be a good idea for Iceland and would you come over to bike around Iceland?
What Success Looks Like
I have been told that 750.000 people come to Scotland to bike each year. If we would get 250.000 each year to Iceland for that purpose I think that would be massive success
Requirements Needed To Progress Activity
Confidentiality Agreement
No
Business Hours/Availability
Business Hours/Availability
Monday

Closed

Tuesday

Closed

Wednesday

Closed

Thursday

Closed

Friday

Closed

Saturday

Closed

Sunday

Closed
Location or Impact of Activity
24, Norðurtún, Egilsstaðir, Múlaþing, Eastern Region, 700, Iceland
It would be great for Iceland
Request Control Now!
Want to Change Activity Listing Ownership?
Request control of this Activity Listing from the current List Owner! Submit your request for free today! Once submitted the current List Owner will confirm transfer.
Request Control Now!