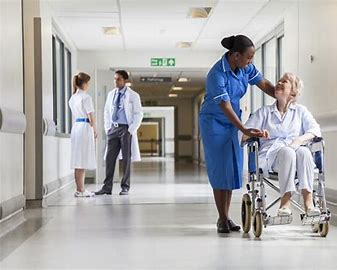 How Do We Fix The NHS?
Time For Answers
We love the NHS… the concept is amazing, and here in the UK, we are very privileged to have such a facility. There are many countries around the world that do not have such capabilities, and healthcare is not a right for all. The big question now is, how do we fix it? How do we overturn the years of meddling, bureaucracy, the lack of systems or implementation failures, low wages, lack of staff, and the long lead time needed for some of this? The NHS needs cross-party support, not political points scoring… because to be honest, all those in power have contributed to where we are today. As much as I don't like to use the word blame… it's very pertinent here.    
Reason For Activity (Your Ambition)
The NHS is an amazing Institution that has been with me for more than 60 years, and which I've used many times before. I've also had the pleasure of implementing a 'scan for safety' solution at UHL with a company called Asteral. this gave me an amazing insight into the organisation, and yes, we were successful. However, the NHS suffers from many issues, not least a shortage of staff, waste, and inefficiency. for those of us who can, I think it's vital to get all the ideas on the table, and then implement whatever changes and improvements are needed. Part of this is culture, and the way we work, think, blame, and limit potential. So, with all that said, our NHS will only move forward when we park politics and ideology and put in place sensible solutions that work.
What Success Looks Like
Go behind the slogans of patient care, or whatever else we choose to hang our hat on, we need a service that is efficient, well funded, well-staffed, with proper joined-up systems and processes that extend into the community and across all services. When all this is in place, then we have real success! We also need a proper way to fund all our hospitals. We need to invest.
Requirements Needed To Progress Activity
Activists, Anyone, Businesses, C Suite, Charities, Community Leaders, Emergency Workers, Entrepreneurs, General Public, Governing Bodies, Governments, Heads of State
Direct Action, Feedback, Information, Investment, Political Change, Press Coverage, Public Awareness, Public Support
The Numbers
Estimated Cost to Deliver in UKP
Not Known or Calculated
Location or Impact of Activity
Palace of Westminster, New Palace Yard, Westminster, Millbank, City of Westminster, London, Greater London, England, SW1A 0AA, United Kingdom
Next Steps
Isn't a radical rethink required? if you're interested and want to get involved then sign up and join us…
Request Control Now!
Want to Change Activity Listing Ownership?
Request control of this Activity Listing from the current List Owner! Submit your request for free today! Once submitted the current List Owner will confirm transfer.
Request Control Now!