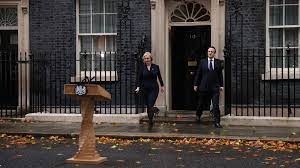 Prime Minister Resigns
Just Where Is It All Going?
My ambition is for a better way to elect our leaders, to ensure they know what they're doing and are progressing a manifesto that the majority, if not all people want.
It's the 20th of October 2022, and our Prime Minister Liz Truss resigns after a mere 44 days in office.
We need better ways to manage affairs like this.
Should there be a General Election, and would this even help?
How do we overcome the many challenges in our economy, not least the £40 billion black hole that no one seems to talk about?
Our country has been misled on Brexit, OR at the very least the benefits stemming from leaving have not materialised. Covid caught everyone unaware and led to huge amounts of money being spent, and now we have political uncertainty.
This begs the question, is Politics in the UK fit for purpose, or do we need to radically think of new ways to govern?
What guarantees are there that any new Prime Minister or Party that might come to power at any time be any more qualified and capable to get us out of this mess?
Reason For Activity (Your Ambition)
Days like this need to be captured, so that we can look back and probably say that things have not gotten any better. Let's hope I'm wrong!
What Success Looks Like
Having personalities in power who not only know what they're doing, but don't perpetuate policy failure.
Requirements Needed To Progress Activity
Different Thinking, Direction, Options, Political Change
Why Consider Getting Involved
Everyone should contribute to the debate not just on who should be in power but on fixing all of the issues that our country and world faces.
Certainty that we're going in the right direction for once.
Location or Impact of Activity
10 Downing Street, Downing Street, London, UK
Next Steps
Sign up and share your thoughts. Let's put forward other options... but regardless it'll take forever to change and improve politics in this country, won't it?