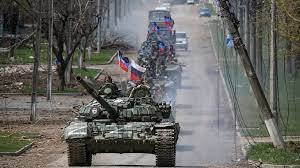 Time To Stop Global Aggression
People of the World Unite
Putin no longer deserves to be called a President, and he will be consigned to the history books as a bully and traitor to the people of Russia, and to humanity as a whole for invading Ukraine.
Not only do we need to see this tyrant behind bars, but we also have to consign this authoritarian thinking to the history books. All we can do now is collectively work together to ensure that he doesn't remain in power for long. Leadership globally needs to be stronger than it has ever been because you are part of the problem too.
A lack of previous resolve, and a lack of action, have precipitated these events. People are watching, are we are exceedingly unhappy!
What Success Looks Like
Russia needs to withdraw from Ukraine, and new leadership is required. The people of Ukraine and Russia, indeed the world deserve better. Authoritarian leadership is consigned to history. The War needs to stop forthwith. Free elections need to be held in Russia. Ukraine needs to be rebuilt.
Requirements Needed To Progress Listing
Political Change, Press Coverage, Public Support, Views
Confidentiality Agreement
No
The Numbers
Estimated Cost to Deliver in UKP
Campaign - Stop Something,Fix – Repair – Solve Something,Share – Promote – Showcase
Location or Impact of Listing
Next Steps
People across the world, including Russia, need to stand up and be counted. Like this Listing, if you want to see the war end, and Putin stands trial. We are only people, but together we can make a difference!
Request Control Now!
Want to Change Activity Listing Ownerhip?
Request control of this Activity Listing from the current List Owner! Submit your request for free today! Once submitted the current List Owner will confirm transfer.
Request Control Now!