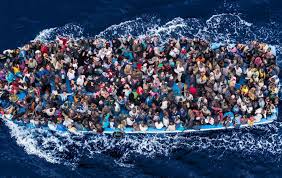 Solve The Global Refugee Crisis
Is there an answer?
According to research published on June 20 by the United Nations High Commissioner for Refugees (UNHCR), 70.8 million people have been forcibly displaced worldwide. That's 2 million more people than last year and the highest number recorded in UNHCR history—ever.
And as of November 2022, there were 231,597 refugees, 127,421 pending asylum cases, and 5,483 stateless persons in the UK including recent Ukrainian refugees.
Another estimate shows a total of 45,756 migrants crossed the Channel to Britain in 2022, according to government figures collated by the BBC.
Of course, this presents a huge dilemma for countries everywhere.
What do we do?
Rebuild the countries they come from?
Absorb them into developed countries?
The problem is epic, and already out of control, and no amount of charity is going to fix it.
Is it not the case that we really need to build whole countries, and their economies, too?
And is it not the case that most people will simply ignore this post because where the world is today, is truly beyond comprehension?
Desired Outcomes
What Are You Trying To Achieve
This is one of mankind's biggest issues, and we need to find a long-term solution.
A significant reduction in the number of people displaced.
Requirements Needed To Progress
Different Thinking, Direct Action
Considerations & Next Steps
If anything, to put pressure on those who could have a more meaningful impact on this dire situation.
What's In It For Those That Get Involved
Peace of mind perhaps, maybe a lot more.
Next Steps For Interested Parties
All thoughts are gratefully accepted. Join now.
Location or Impact of Ambition