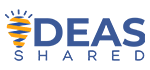 Watch Intro Video
Want to learn how and why Ex-Footballer Ivar Ingimarsson and British Army veteran Bob Thompson created Ideas-Shared?
Just complete the form to learn more, and get a complimentary copy of '7 Steps To Glory' as our way of saying thanks!
Complete Form & Submit
Invalid mailing list code
Terms of Service | Privacy Policy | Cookie Policy | User Guidelines | Disclaimer
Ideas Shared Ltd is a company registered in England and Wales with company number 13594089
© 2023 – Ideas-Shared. All Rights Reserved.