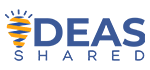 Home > Learn More > Special Offer
Special Offer
Get FREE Lifetime Access Worth £££s: Limited Offer!
Welcome to Ideas-Shared, the place to be if you want to make a material difference, personally, within your organisation, or across society. Join our exclusive community as a founding member and gain FREE Lifetime Access to a platform and methodology to help you realise your ambitions and goals – a value beyond measure. Be part of the One World Initiative, where you are pivotal in driving positive change throughout the world.
Get Your Priceless Bundle Today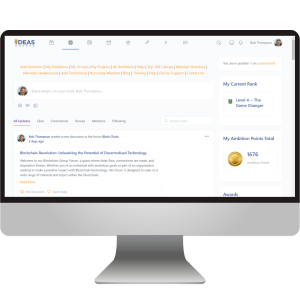 Ideas-Shared Platform: Coached Ambition Realisation Platform (Value: £Priceless)
Be empowered to collaborate on personal, business, and societal initiatives. Join as a founding member for FREE lifetime access.
Get Involved
One World Initiative: Be part of a unique global community with the power to effect change.
Democratised Ambition Realisation: By joining, you support equal opportunity for success through individual involvement.
Global Community of Change-Makers: Connect, engage, and work together with diverse individuals and entities to transform and improve our shared reality.
Versatility Across Ambition Areas: Pursue a wide range of goals within a single platform – Ideas-Shared caters to eight ambition areas, fostering growth.
Emphasis on Authenticity and Collaboration: Open communication and engagement encourage users to express needs and seek expertise from others.
Start To
Define Clear Goals and Ambitions: Articulate your aspirations clearly to engage effectively with the platform and connect with like-minded individuals.
Ask for Help and Seek Expertise: Reach out to fellow members for guidance, fostering a culture of mutual support and growth.
Build Teams and Collaborate: Form teams with members who share your goals. Collaborate and leverage diverse talents for greater outcomes.
Create Projects with Impact: Initiate and manage projects aligned with your goals. Outline objectives, milestones, and tasks for meaningful progress.
Plan and Execute Tasks Strategically: Break ambitions into actionable tasks. Use the platform's tools for effective task management.
Active Participation: Engage regularly by starting discussions, sharing opinions, and contributing – enhance your visibility and networking.
Leverage the Community: Collaborate, offer insights, and seek advice. The platform's strength lies in its community.
Quality Contributions: When sharing content, focus on valuable, high-quality information. Enhance credibility as an expert.
Problem-Solving and Solutions: Engage in problem-solving discussions and provide practical solutions, showcasing expertise.
Networking and Connections: Connect with like-minded individuals and organizations for collaborations, partnerships, and opportunities.
Positive and Supportive Interaction: Maintain a welcoming and constructive tone. Uplift fellow users and create a supportive environment.
Learn and Grow: Use platform resources, tutorials, and events for continuous learning and personal growth.
Take Initiative: Proactively seek help, share experiences, and engage with others for insights and advice.
Consistency: Contribute regularly to build a reputation and establish meaningful connections.
Open-Mindedness: Embrace diverse perspectives and ideas, fostering learning from others' experiences.
Utilise Training and Guidance: Benefit from the platform's 6 coached progression modules for insights and strategies.
Promote Your Achievements: Share successes, milestones, and accomplishments to inspire others and showcase dedication.
Contribute to Positive Change: Support the platform's mission and actively contribute to a positive and uplifting community.
Stay Persistent and Resilient: Commit to your ambitions, knowing success takes time. The platform supports your journey.
Take Action Today & Get These FREE Bonuses Worth £194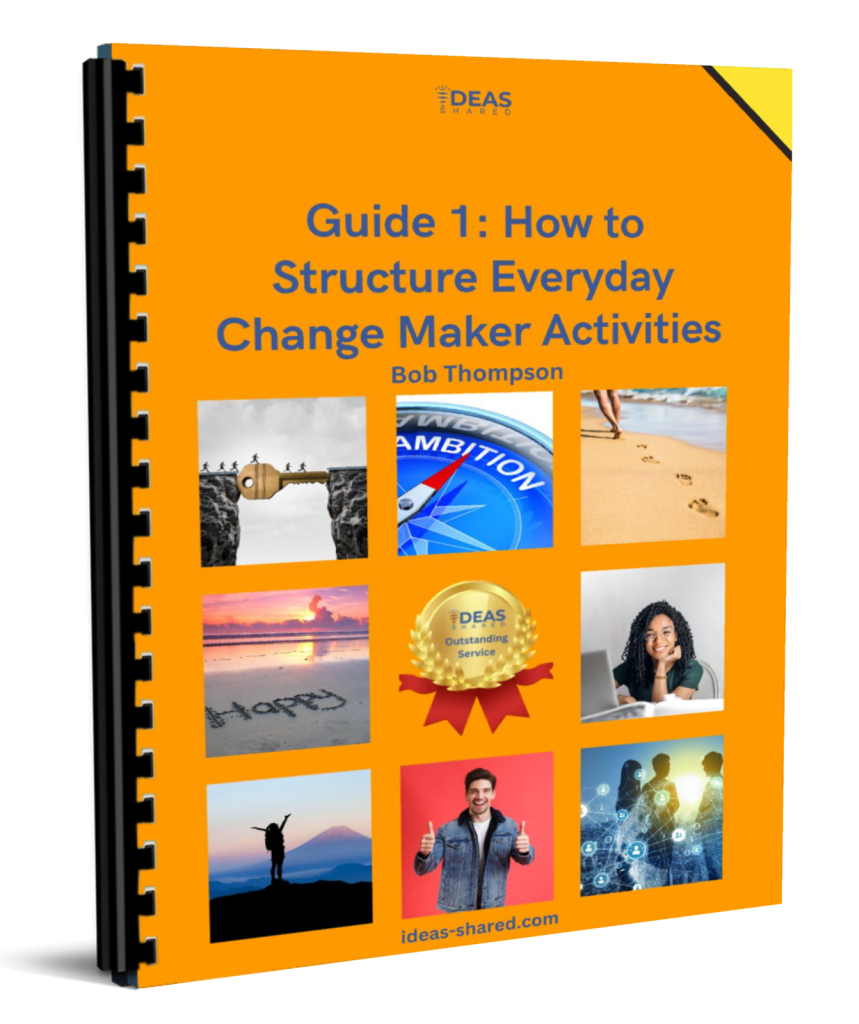 PDF | 27 Pages | 9434 Words
Guide 1: How To Structure Everyday Change Maker Activities (Value: £19)
Reading this book will provide valuable insights into the potential of structured collaboration and how Ideas-Shared can be your gateway to achieving your ambitions and making a positive impact in the world.
Unlock the Power of Structured Collaboration: Discover how structured collaboration can transform the way you approach challenges and ambitions, leading to extraordinary outcomes.
Overcome Obstacles with the 7 Steps: Learn the simple and scalable 7 Step Process that empowers individuals and organisations to navigate a path of growth and success.
Tap into Collective Wisdom: Embrace the transformative power of shared experiences, where diverse perspectives and open discussions refine ideas and lead to innovative solutions.
Access the Benefits of Ideas-Shared: Explore the unique features and concepts behind Ideas-Shared, the platform designed to empower change-makers and foster collaborative thinking.
Embrace the Future of Collaboration: Join a powerful network poised to revolutionise the way we think, work, and achieve our ambitions online, creating a more sustainable and harmonious world.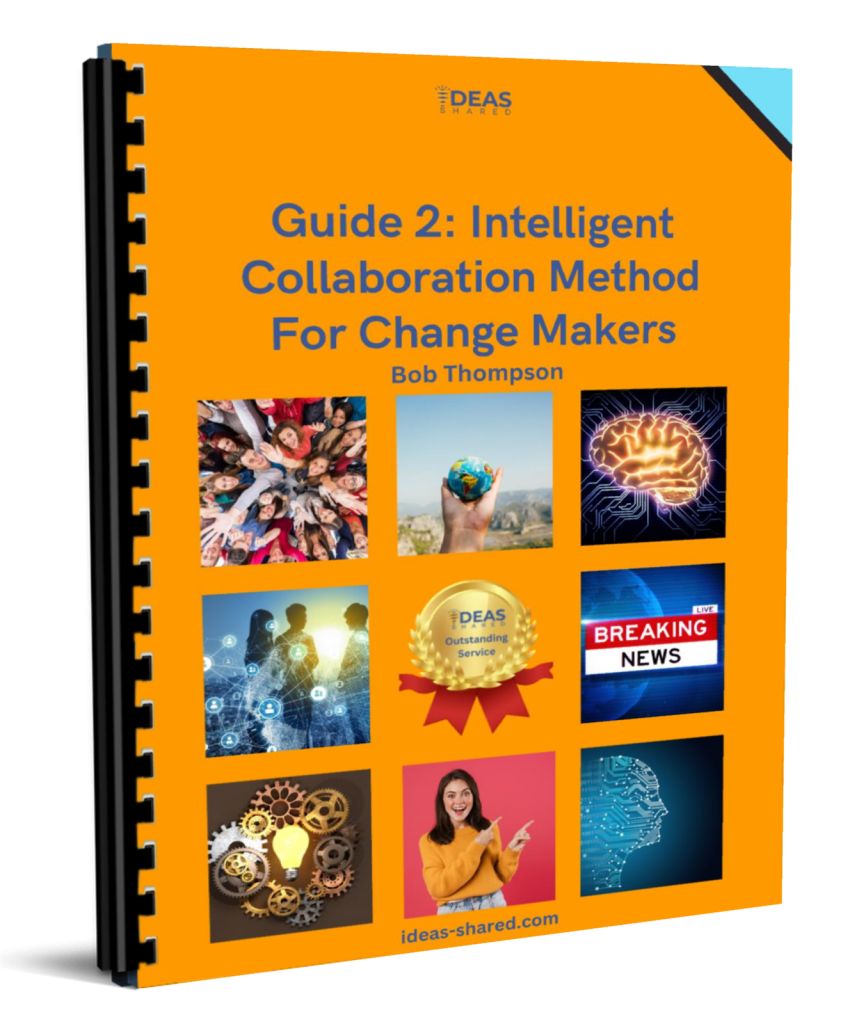 PDF | 22 Pages | 6426 Words
Guide 2: Intelligent Collaboration Method For Change Makers (Value: £39)
Gain valuable insights into the concept of intelligent collaboration and its role in achieving ambition realisation. It highlights why ambitions often fail and provides crucial steps to increase the likelihood of success.
The Formula For Success: Learn about our success formula.
3 Keys to Achieving any Ambition: What to include when using intelligent collaboration to achieve your goal.
Understand what Intelligent Collaboration is: Get the insider view and see why now is the perfect time to embrace intelligent collaboration.
Discover the 4 Primary Achievement Motivators: Learn why so many people fail to get their message across.
The 7 Step Process – Discover the exact same process we used to build Ideas-Shared bottled and systemised.
Overcome Self-Sabotage: Learn how to stay in control when everyone else is losing their mind.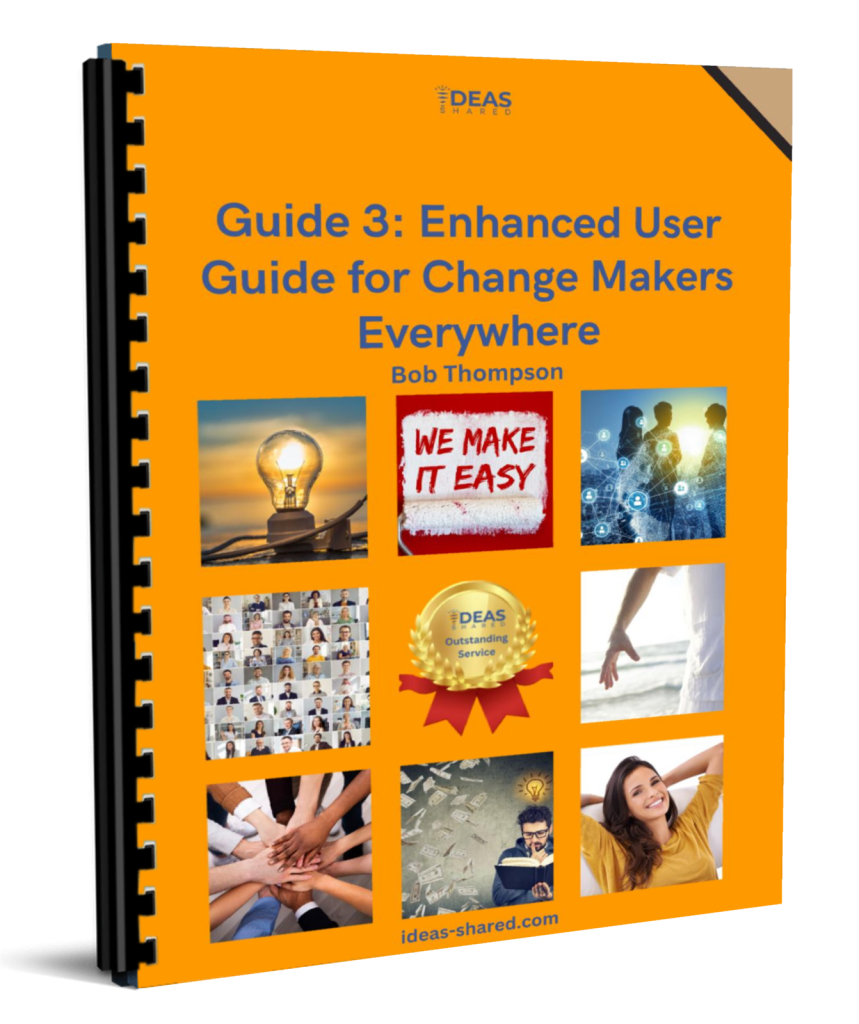 PDF | 48 Pages | 10686 Words
Guide 3: Enhanced User Guide For Change Makers Everywhere (Value: £49)
In the Enhanced User Guide for Ideas-Shared, we provide you with a comprehensive resource to navigate our platform effortlessly. From account deployment to project management, this user-friendly guide offers clear and concise instructions, ensuring you make the most of its powerful features and resources. With this guide in hand, you'll master forums, messages, and collaboration tools, empowering you to identify opportunities and connect with like-minded members. Dive into the directory of listings, manage documents and multimedia, and explore the future world of Ideas-Shared, maximising the benefits of your membership.
Streamlined Experience: Effortlessly navigate Ideas-Shared using clear and concise instructions, enhancing productivity.
Improved Collaboration: Master listings, groups, messages, and collaboration tools to connect and engage with like-minded members.
Enhanced Project Management: Effectively manage projects, tasks, and teams, ensuring successful outcomes.
Access to Valuable Resources: Dive into the directory of listings, manage documents, photos, and videos for a more enriched experience.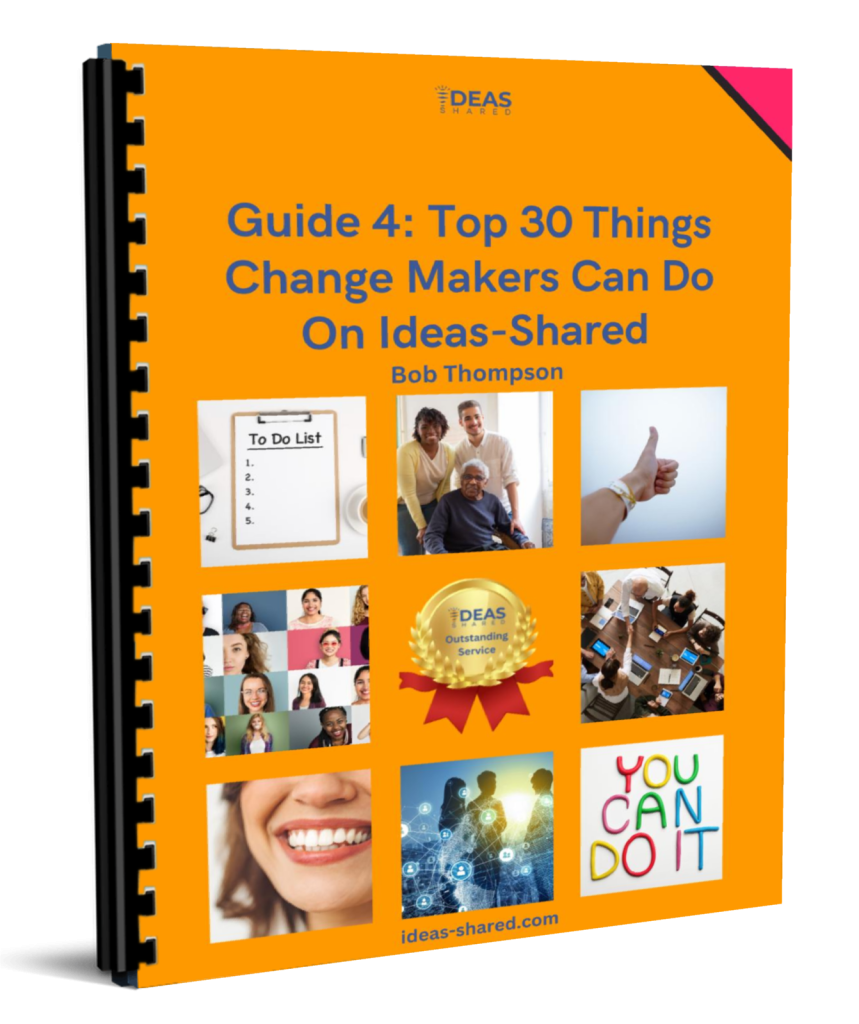 PDF | 25 Pages | 6990 Words
Guide 4: Top 30 Things Change Makers Can Do On Ideas-Shared (Value: £19)
Top 30 Things to Do on Ideas-Shared offers a comprehensive guide that will equip you with invaluable insights and strategies to maximise your experience on our platform. Whether you're a seasoned user or a newcomer, these top 30 tips will empower you to unleash the full potential of collaborative change-making and achieve remarkable results.
A Purposeful Approach: Learn how to make decisive choices and channel your energy effectively to drive positive change and achieve your ambitions.
Unlocking Intuition and Curiosity: Embrace the power of curiosity and intuition to gain fresh perspectives and make more informed decisions.
Mastering the Basics: Understand the fundamental principles and functionalities of Ideas-Shared, laying a strong foundation for your journey.
Navigating Forums and Listings: Engage with the Ideas-Shared community through forums, activity listings, and posters, fostering meaningful connections and collaborations.
Transformative Mindset: Embrace a change culture, be accountable for your goals, and extend support to others, creating a thriving ecosystem of change-makers.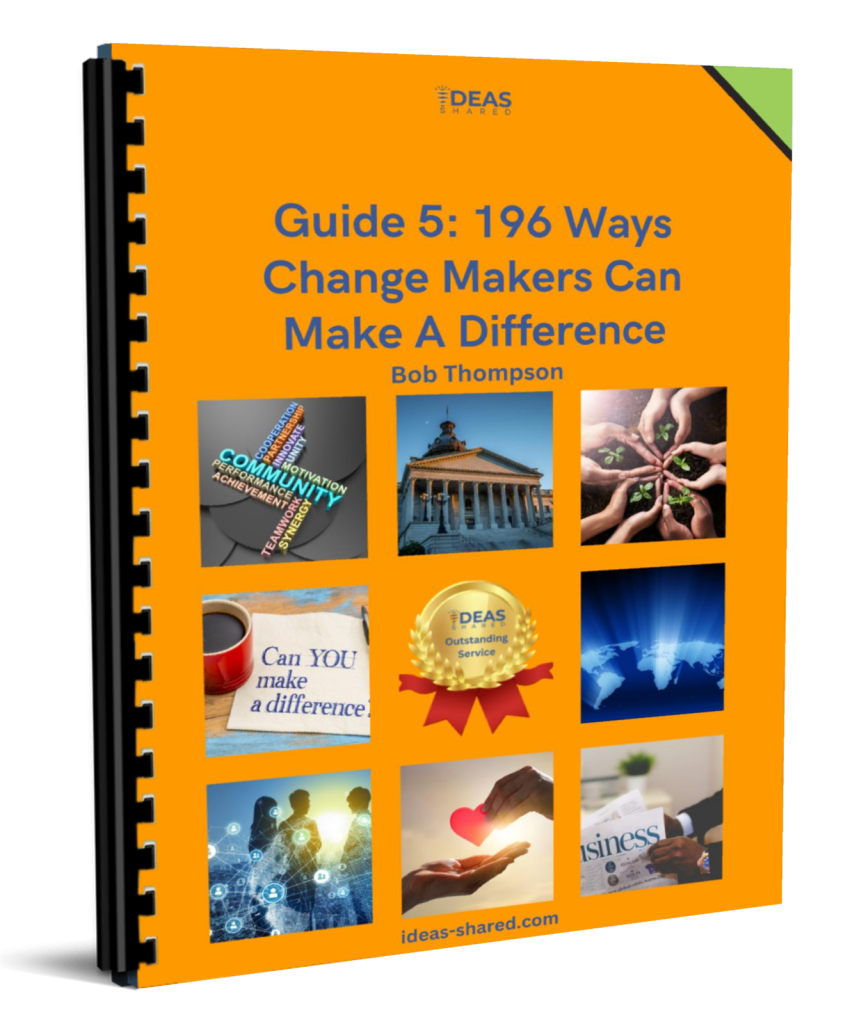 PDF | 215 Pages | 40045 Words
Guide 5: 196 Ways Change Makers Can Make a Difference (Value: £39)
We present a comprehensive guidebook filled with a plethora of possibilities to help you unleash your full potential as a change-maker. With 196 actionable activities spanning various categories, this book will ignite your curiosity, spur your intuition, and inspire you to take that first step toward making a lasting impact in your life and the lives of others.
A World of Possibilities: Explore 196 unique and actionable activities across personal, community, school, club, charity, special interest group, and business domains, igniting your creativity and sense of purpose.
A Proven Process: Gain insights into the step-by-step process of utilising Ideas-Shared to turn your ambitions into reality, empowering you to navigate challenges and build collaborative networks effectively.
An Empowering Journey: Embrace the transformative power of Ideas-Shared, where curiosity, intuition, and collaboration merge, leading you towards a life of purpose, fulfillment, and positive change.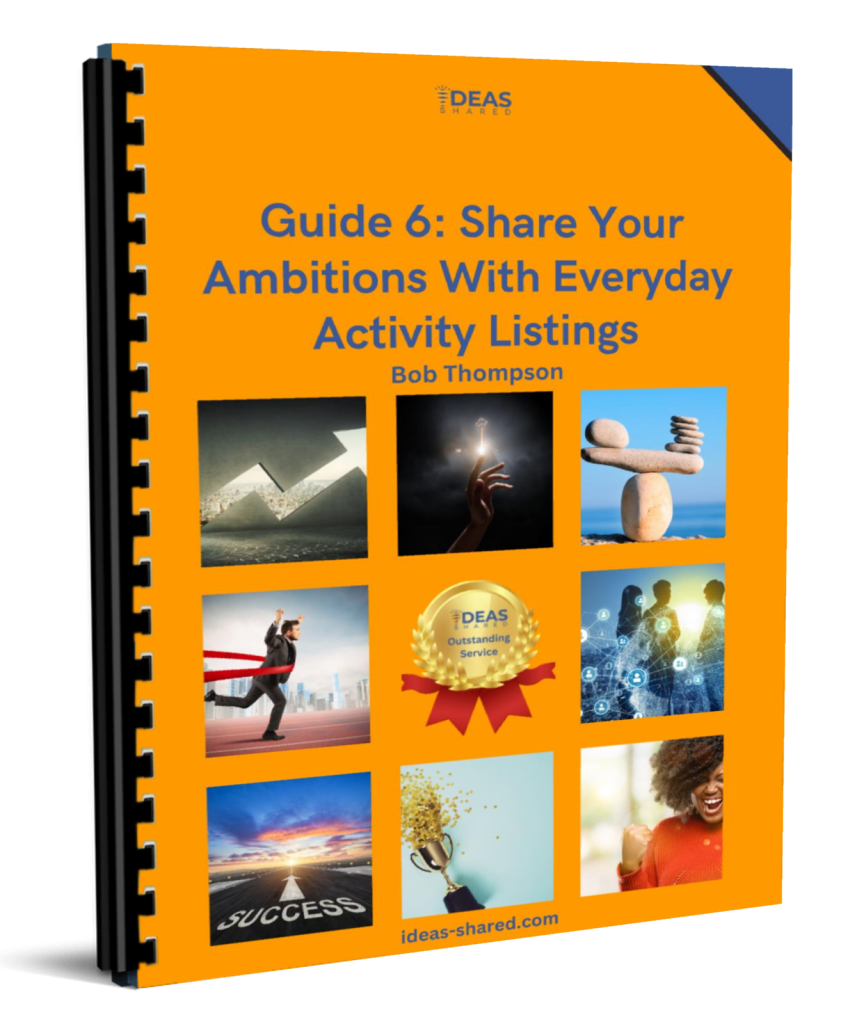 PDF | 46 Pages | 14112 Words
Guide 6: 196 Ways Change Makers Can Make a Difference (Value: £29)
We offer the sixth book in the groundbreaking series that delves into the transformative world of Ideas-Shared. In this book, we explore the power of Activity Listings and how they can turn ambitions into actionable strategies, ultimately leading to meaningful outcomes and real-world impact.
Play Dynamic Member Roles: Discover the dynamic roles of List Owners, Core Team Members, and other contributors, each playing a pivotal part in the vibrant tapestry of ambition realisation on Ideas-Shared.
Utilise Activity Listings: Gain a deep understanding of Activity Listings and how they serve as powerful conduits for sharing ambitions, ideas, and goals within the Ideas-Shared community.
Everyday Activity Types: Explore the 18 diverse Activity Listing types, each tailored to suit your ambitions and discover how they can ignite innovation, collaboration, and positive change.
Pre-Defined Standard Tasks: quickly identify, set up, and deliver your ambitions and goals with these task blueprints available for each Listing Type.
Join Our Exclusive Founding Member Community (Time Limited)
Don't miss out on this limited-time offer. Save £££s per annum by joining our exclusive community with an Individual Founders Account (£ priceless), and get an additional set of 6 Guides worth £194 as a further thank you. Should you choose to cancel your membership, the bonuses are yours to keep to help you realise your ambitions and goals. Click the button below to get your free account:
---