See How It Works And Be Ready To Make A Difference In The World
As Easy As 1, 2, 3
Sign Up
Build on your commitment for a better world by deciding what you want to achieve
Share
Share your ideas and thoughts with people globally, and ask for the help you want
Deliver
Create winning teams that plan and execute those tasks needed to achieve desired goals
How It Works in Detail
Everything starts with our Members, people like you who want to live in a better world!
Firstly, those over the age of 16, choose a membership option and sign up, either individually, or in groups that support communities, organisations, businesses, and government, including non-profit groups, schools, special interest groups, clubs, authorities, and public bodies… our Champions share their personal, organisation, business, or group ideas and thoughts via respective activity listings.
Activity listings can be about anything, across the spectrum of humanity… once posted, members and non-members vote (via a simple like/dislike button), elevating pressing/ popular/ engaging/ important/ and urgent matters that we need to collectively focus on and do… or need help with… this attracts people to support and help as described… interested parties then come together to plan and execute the necessary tasks that deliver the desired outcomes…
This is a powerful, absorbing, and fun way to make the world a better place… and we invite everyone to become Champions to share their ideas and thoughts, to make it happen, or to help!
Just sign up as yourself to get an Individual Champion Account, or Free Membership.
If you're a Leader, Director, or Officer of an organisation or business, you nominate yourself or others to act as your Champion(s) to work internally, or externally to achieve desired results. On signing up, Champions must use a recognised organisation or business email. This keeps things separate from Individual Champion accounts. Individuals can act as Champions for themselves, and any number of other organisations or businesses.
Our Champions follow proven steps to identify and achieve desired outcomes with the people you know, and those you've yet to meet…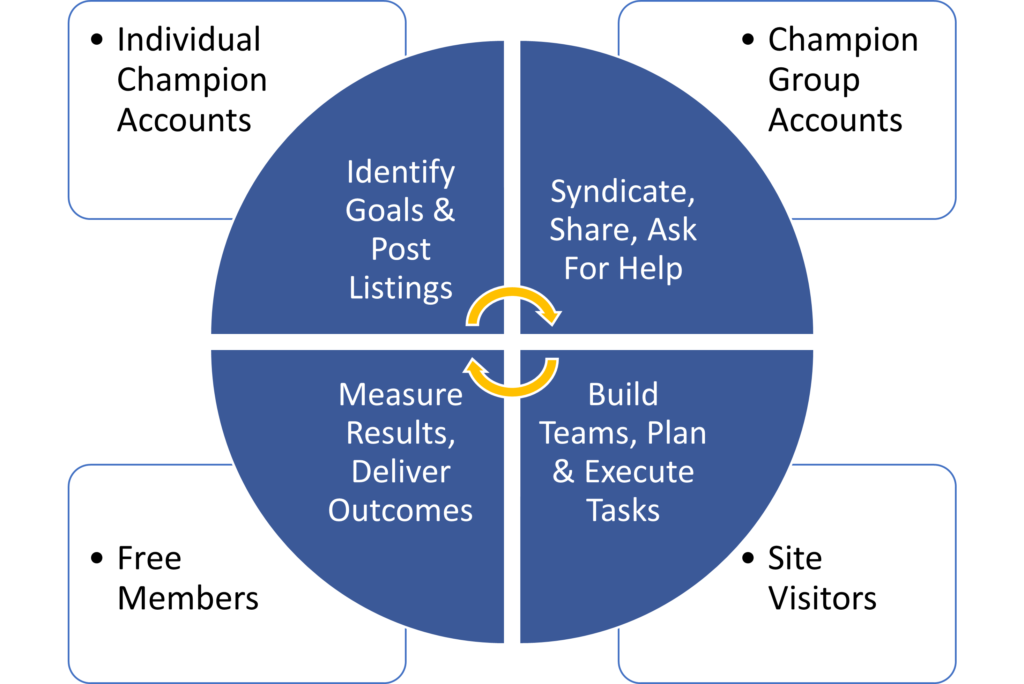 Ideas-Shared facilitates your journey from current situations to preferred outcomes, cutting through the waste and inefficiency of our modern world to find and focus on what's important to you.
We do this by empowering you to identify and share your important and urgent ideas and thoughts with the people you know, and those you've yet to meet… including other Individual Champions, as well as those of profit, non-profit, and forward-looking authorities and public bodies… all of which is facilitated using activity listings. Attract like-minded people who have the same ideals as you, connect, obtain the necessary leverage, resources, and support, then go make it happen!